On Feb 27th The Waterhouse Restaurant in Peterborough, NH will generously donate 10% of all proceeds to Touchstone Farm for Giving Tuesday!!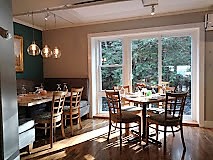 Join us on Feb 27th at The Waterhouse Restaurant!  We will have a fantastic fun time and better yet, know that 10% of all revenue for the entire day will be donated to Touchstone Farm!!!  
Proudly, Touchstone Farm is the highlighted local non-profit for February 27th at the Waterhouse Restaurant!!  Gather up your friends and family join us for lunch, happy hour or dinner!  We would love to see you and let you know what the farm has been up to.
 Happy Hour from 4:30-6:00pm with great door prizes and fun socializing with friends
OR stop by anytime that day for lunch or dinner and let Waterhouse donate to the farm while you enjoy a wonderful meal!
The Waterhouse community program "GIVING TUESDAYS" is every Tuesday in February and we are so thankful for this opportunity!   https://www.waterhousenh.com/events
For questions: contact Michelle Lowe at mlowe@touchstone-farm.org
Save The Date: April 7th for our fabulous Boston Spring Fundraiser!!!
WHERE? The Royal Sonesta Hotel in Cambridge, MA (directions)
WHEN? Saturday, April 7th, 5:30pm-9:30pm
Hors d'oeuvers and Full Bar
Dinner Stations & Light Desserts
Live, Online & Silent Auctions:  BiddingForGood.com
Sharing Stories & Mingling
For questions: Contact Michelle Lowe at mlowe@touchstone-farm.org