HORSE POWER, therapeutic horseback riding
Private, semi-private and group lessons are available, depending on the needs of the rider. Before beginning lessons, we conduct an evaluation interview to determine what size lesson is best for the rider. This evaluation also helps us select the best horse or pony for the rider. PLEASE CALL FOR 2017 PRICING: 603.654.6308
Type of Lesson
Length of Lesson
HP Riding Lessons

(per person/ per lesson)

HP Driving Lessons

(per person/ per lesson)

Private
30 minutes
Private
1 hour
Private
1 hour 30 minutes
Semi-Privateᶤ (2 participants)
30 minutes
Semi-Privateᶤ (2 participants)
1 hour
Groupᶤ (3 or more participants)
1 hour
Groupᶤ (3 or more participants)
2 hours
Payment Policy:
Horse Power Riding and Driving lessons payment is due either in full at the start of lessons, or half by the first lesson and the remaining balance halfway through the lessons.
Cancellation Policy:
Participants must contact the Touchstone Farm Office, 603-654-6308, 24 hours in advance to reschedule a lesson. If a participant does not call and does not show up for a lesson, the lesson will not be made up or rescheduled and the lesson fee is still due.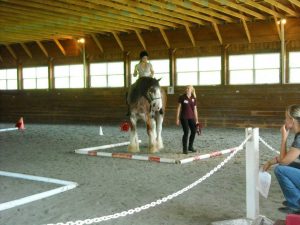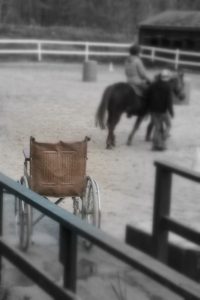 How Do Horses Have a Therapeutic Benefit?
Clients can relate to horses in a way they might not be able to do with people in their lives. As they identify with the horses they often become more open to learning and communication.
Clients can model the positive behavior they see in the instructors and volunteers who work with them. As they are exposed to the components of a healthy relationship (trust, dependability, responsibility, empathy, awareness of boundaries, discipline, patience, respect) they will often begin to demonstrate these qualities in their relationships and interactions with others.
The movement of the horse (at the walk) mimics the movement of a person's hips as they walk and this can be very effective for clients who have physical disabilities, range of motion and mobility problems.
Clients are often more open to accepting the "feedback" from the horse than they are from others in their life (parents, guardians, therapists) and can make appropriate adjustments to their reactions, decisions, etc. to help them make positive changes and growth.
HORSE POWER, therapeutic carriage driving
Horse Power has a therapeutic driving program for those who are unable to ride horseback or who prefer to drive carriages. Our driving vehicles include a variety of carriages, including a wheelchair accessible carriage.