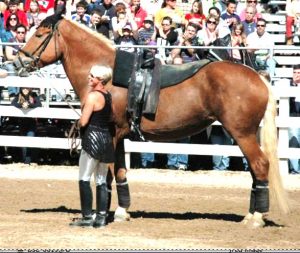 Email: pfalkins@touchstone-farm.org
Phone: 603.654.6308
Pam Falkins – TSF and Horse Power Riding and Driving Lesson Program Coordinator 
Pam has lived in NH for 25 years after serving in the Unites States Army for 6 years.  She has been teaching for 20 years and coaching Equestrian Vaulting for many years. Pam has trained 4 vaulting horses, 2 of which have competed at the National Level.  Pam's background is in Eventing and Dressage and trains her horses daily to give her students the best learning experience.  Pam lives with her husband in Wilton and her five horses live here at Touchstone Farm.
Testimonial: "My daughter and I were exposed to Vaulting for the first time at Touchstone Farm's Spring Fling in May of 2015.  At 13, Maddy had already been a competitive dancer for 6 years and dancer for 7 years.  For a girl who has been riding on and off from a very young age and a genuine lover of all animals, discovering vaulting – the combination of two of her passions – was a dream come true.  Skills Maddy is learning in vaulting help improve her riding skills, drives confidence and physical strength.  Pam brings years of experience, knowledge and discipline of the sport to Renaissance Farm Vaulting Club.  She supports Maddy's strive to do her very best and she helps bring that out in her in every lesson.  We feel incredibly fortunate to have discovered Pam and Renaissance Farm!"
Winter Keeler – Lead Horse Power Riding Instructor
Winter is a PATH Intl. Certified Therapeutic Riding Instructor (TRI) and Mentor, and is finishing her Equine Specialist in Mental Health and Learning (ESMHL) Certification. She has been an instructor with the Horse Power Program since 2011 and has been connected with Touchstone Farm since 2004. Winter grew up riding at home in North Carolina. She also worked and rode at Longleaf Pine Farm in Southern Pines, and spent many years as an active member in the Moore County Pony Club in NC, participating in Games, Combined Training, Eventing, and Tetrathlon on the East Coast, competing in regional and national rallies.
Winter greatly enjoys helping people connect to horses and other people, discover self-confidence, attain independence and learn new skills. Winter is a Licensed Independent Clinical Social Worker (LICSW) in a group practice in Keene, NH. She holds a Bachelor of Arts degree in Psychology from the University of North Carolina at Chapel Hill and a Master of Social Work degree from the University of New Hampshire at Durham. In her spare time Winter enjoys renovating her home, spending time with family and friends, traveling and being outdoors!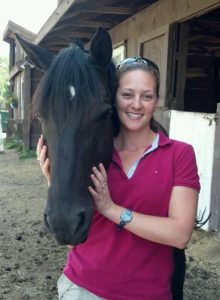 Email: wkeeler@touchstone-farm.org
Phone: 603.654.6308
Testimonial: "We are so pleased with the positive changes from lessons.   As early as lesson one my son said "I like how she (Winter, our instructor) gives instructions".   The impact of riding has been beneficial in many areas of daily task.   Lessons provide a positive progressive self-challenge in a calm atmosphere.  The staff is compassionate and able to adapt to each individual.   We look forward to continuing with the Horsepower program and the growth it is providing our son."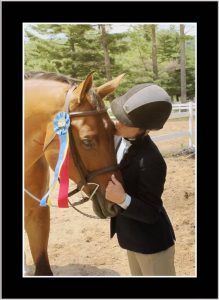 Email: asnow@touchstone-farm.org
Call: 603.654.6308
Testimonial: "My daughter, Maddy, has had riding lessons on and off since she was about 5, loosing prior instructors to leaving for veterinary school and her latest to retirement.  We struggled to find a new farm and instructor that felt again like home to her.  Maddy started regular lessons over the summer of 2015 at Touchstone between amazing weeks as a Pony Farm camper.  She continues to go for lessons weekly with Andi and has thrived on the farm.  Andi is an incredibly talented instructor.  Being 13, Andi supports Maddy's independence – getting her horse from the paddock, tacking up and preparing for her lesson.  The lesson is articulate and challenges the rider appropriately.  In my daughter's most recent lessons, I was floored that she chose to ride a more challenging pony – giving her the opportunity to better test her own skills.  Maddy would not have had the confidence in the past to challenge herself in that way.  Touchstone Farm allows her to thrive as a rider and horse lover."  – The Brown Family
Andi Oxier (Snow)– Equine Manager, Trainer and Horse Show Manager
Andi is an ARICP/ARIA Level II Certified Instructor (Hunt Seat), with over 25 years of experience riding, training, coaching and competing.  She has successfully shown and coached in the equitation/medals and hunters in all levels from local to "A" shows, including Vermont Summer Festival and Fieldstone.  Students have won year end awards and top placings in the NH, Maine, and MHC Medal Finals in divisions ranging from Leadline and Walk Trot through the Junior and Adult Medals.  Andi teaches all ages of riders at experience levels ranging from beginner to advanced.  Her program focuses on solid basics and flatwork incorporated into work over fences, with an emphasis on excellent horsemanship and horse management.  Students are taught not only the riding aids and their application, but also equine behavior and how to treat each horse as an individual in order to maximize rideability and performance.
Training programs for horses/ponies include teaching groundwork and under saddle basics through more advanced flatwork, jumping basics and course work, and competition.  Training board, both long and short term, is available upon consultation.
Andi attends a variety of horse shows with her students throughout the spring, summer and fall, and also competes with her own horse(s) in the green and open hunters.
George Stolz – Lead Horse Power Carriage Driving Instructor
George is a PATH Certified Driving Instructor.  He teaches in both our Horse Power and Touchstone Farm Lesson programs.  He is a CAA Certified Level One Driver and is a member of both CAA and ADS.  George is also an EAGALA certified Equine Specialist. He has assisted in several PATH Driving Instructor Workshops given here at Touchstone and has been a driver and staff member in Touchstone Farm's Fall Festival of Driving in addition to staffing several driving clinics here at the farm.
George started driving recreationally at Touchstone and through a stroke of good fortune, was able to retire from his career of 35 Years as a Professional Civil Engineer to pursue his love of driving full time and train to become a driving instructor.  
George is experienced in driving many different horses from VSEs up through large drafts with a variety of vehicles. A true believer in the Horse as a partner, he currently has two driving horses of his own, A Hackney Clydesdale mare at 16.2 hands and a Paint gelding at 15.2 hands.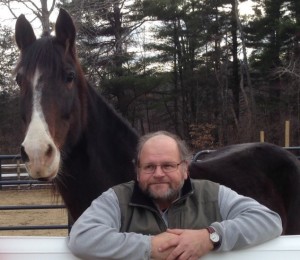 Email: gstolz@touchstone-farm.org
Call: 603.654.6308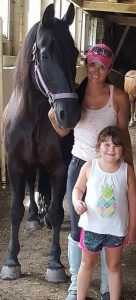 Email: kreynolds@touchstone-farm.org
 Phone: 603.654.6308
Kelsi Reynolds – Intern Instructor
Kelsi Reynolds has been riding since she was three years old. She has owned her own horse for 17 years. She grew up riding competitively Morgan saddled seat and hunt seat. Kelsi started interning at Touchstone farm in 2008 with the Horse Power Program.  From there she started volunteering with Peanut on Ponies lessons and taking Hunter/Jumper lessons. She started as a full-time employee of Touchstone farm in the Fall of 2015 as a barn staff and Peanut Instructor. She has been taking hunter/jumper lessons  and dressage lessons to further her knowledge of teaching. She also has been working closely with Andi and Pam to further her knowledge on teaching lessons. Before working at Touchstone Farm in 2015 Kelsi was an Early childhood Teacher for 4 years, she worked with ages 1-4.
My other hobby is being around children. I am now an intern instructor and peanut instructor. It has always been my dream to be a "peanut" instructor and to work with horses, Touchstone Farm has helped me make this dream come true!
Jennifer Case – Horse Power and Touchstone Riding Instructor
I believe that any time spent with a horse is inherently therapeutic!  I am so happy to combine my experience and love of teaching children and adults with my love for horses, and to witness the amazing results.
I have a Master's degree in Waldorf Education, am a recently certified PATH Therapeutic Riding Instructor and live with my husband, 3 boys and our dog in the house we built in Peterborough, NH.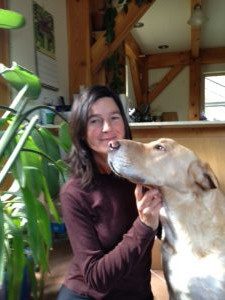 Email: jcase@touchstone-farm.org
Phone: 603.654.6308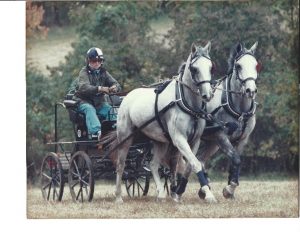 Holly Pulsifer – Coordinator in Carriage Driving Program
Holly Pulsifer has had a 40 year volunteer career as combined driving judge, event organizer, course designer, and committee member for both the American Driving Society and the United States Equestrian Federation.  She has been instrumental in developing the sport in the United States as the chair of various national committees, as an instructor for official's clinics, and as co-organizer of the Myopia Driving Event (1975-2000), and the Waldingfield Driving Trial (1988- present).  She currently spends time with her semi-retired pair of grey ponies and husband in Ipswich, MA, and visits children and grandchildren in Maine and Montana.
Barbara Cochrane – Database Coordinator 
Barbara is a volunteer involved in various administrative functions at Touchstone Farm. She is the database administrator for Touchstone's donor and contact database.  Her involvement in driving includes being the registrar and secretary for the annual festival of driving as well as being the registrar for the PATH International Driving Workshop and Certification. Additionally, Barbara takes driving lessons at the farm, has attended a week long driver immersion program and has participated in an Arena Driving Trial.
Email: bcochrane@touchstone-farm.org
Phone: 
Gerry Duncan – Coordinator in Veteran's Programs
Click here to add your own text
Click here to add your own text
Tara Mahoney – Facilitator in Veteran's Programs
Tara's lifelong love for animals and the outdoors started when she was a young camper here at Touchstone Farm. She is thrilled to be able to combine these passions with her professional work. Tara has a wide range of experience in the mental health and addiction field working in hospitals, courts, private practice, and Vet Centers. She is a Licensed Associate Counselor and has certifications and training in Forensic Psychology and Mental Health Counseling, Veteran's Behavioral Health, Trauma Informed Care, and Mental Health Specialist in Equine Assisted Growth and Learning Association (EAGALA, Part 2). Tara is honored to serve veterans and their families at Touchstone Farm.