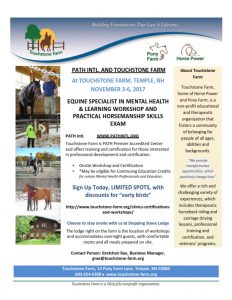 REGISTRATION AND FORMS
To register for the workshop, skills exam, or both, please complete packet of forms and return to Touchstone Farm, Attn: Michelle Lowe, 13 Pony Farm Lane, Temple, NH 03084.
Touchstone Farm Registration, Payment and TSF Release forms
PATH Intl. ESMHL Profile form
PATH Intl. ESMHL Application form
PATH Intl. Authorization for Emergency Medical Treatment form
PATH Intl. Liability Release form
PATH Intl. Photo Release form
*NEW this year: There are TWO expense options for payments this year: 1. Prices for payments (full and deposits) BEFORE SATURDAY SEPTEMBER 2nd and 2. Prices for payments (full and balances) made AFTER FRIDAY SEPTEMBER 1st. For all those Early Birds, in your shopping cart ADD a 10% off COUPON CODE: ESMHLEARLYBIRD but only if paying for your FULL registration ONLINE BEFORE June 1st!! (coupon is invalid after May 31st and invalid on deposit payments)
Payment fields only apply to the PATH workshop and/or PATH skills test.  ALL ON-SITE ACCOMMODATIONS need to be purchased through the ACCOMMODATIONS  payment fields.  Your charges will be subtotaled before final payment.
IF YOU MAKE A PAYMENT ONLINE, MAKE A NOTE ON YOUR MAIL-IN REGISTRATION PAPER PACKET, to be credited properly 
TOUCHSTONE FARM's ESMHL Workshop & Skills Test CANCELLATION and REFUND POLICY:
Full payments will be fully refunded if registration is cancelled in writing ON OR BEFORE Friday September 1st. If a full payment participant cancels ON Saturday September 2nd or after, a $55 cancellation fee for Workshop & Skills test registrants, a $50 cancellation fee for Workshop Only registrants, and a $10 cancellation fee for Skills Test Only registrants, will be held back by TSF.  ALL deposit amounts paid, will NOT BE REFUNDED if you choose to cancel your registration after MAY 31st.
Also, any 4% service charges will NOT be refunded.