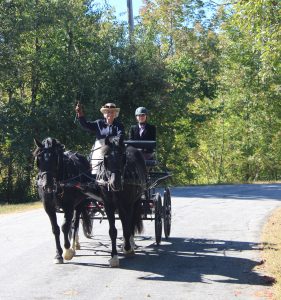 Email: bmartin@touchstone-farm.org
Cell: 603.321.5255
Isabella (Boo) Martin – Executive Director
Boo has loved all 45 years of being on this farm. Starting with eight scraggly ponies and two best friends, it is real thrill to see what the farm has become.  I still love camp the best and adore seeing people of all ages learn to ride and drive.  The veterans and their families inspire and move me every single time they come to the farm. I love what the farm does for all of us.  I look forward to driving more and working less someday soon but in the meantime, come visit! Let's share the good times in the past as we dream of our future.
Kris Young – Director of Farm Operations
Kris is our Director of Farm Operations.  Kris first came to the farm at age 8 and began full time employment at 19. She's worked most of the jobs on the farm, from cook to riding instructor to barn manager and Pony Farm camp co-director and more. Kris has also Worked at Monadnock Developmental Services as a direct support staff, lead staff and peer counselor. Kris is a lifelong animal lover who loves to share the joy that all the animals of the farm have to offer. She is a devoted caretaker of the farm's non-equines, and is best friend to every one of our chickens.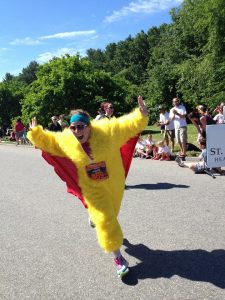 Email: kyoung@touchstone-farm.org
Phone: 603.654.6308
Email: kborges@touchstone-farm.org
Phone: 603.654.6308
Kim Borges – Financial Administrator
I was born and raised in NH and currently live in New Boston with my two boys, Isaac and Jacob, and my husband, Joe.  Outside of work I love to spend my time doing anything that involves family and being outside.  Avid campers in the summer and skiers in the winter I take advantage of all this great state of NH has to offer.   I truly enjoy working for TSF and being part of a team that helps others get outside and unplug from today's busy world.
Becky Sanborn Hawkes – Pony Farm Camp Director
Becky is the Director of Pony Farm Summer Camp.  Becky got married this past Fall to her Mikey.  She enjoys coming to camp with her fur child, Gunner!  In Becky's down time she enjoys teaching second grade in Wilton.  This will make Becky's 17th year on the farm!  In her spare time she enjoys reading, swimming, cooking, and hiking!
I have a conviction that a few weeks spent in a well organized summer camp may be of more value educationally than a whole year of formal school work.
-Charles Elliot,  Former President of Harvard University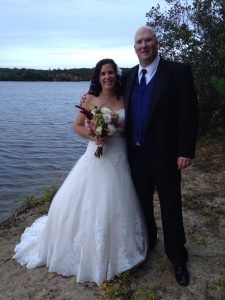 Email: bhawkes@touchstone-farm.org
Phone: 603.654.6308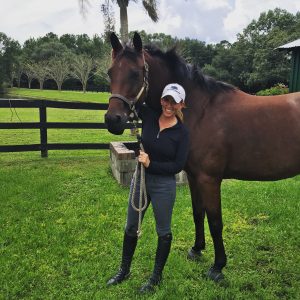 Email: mrothnie@touchstone-farm.org
Phone: 603.654.6308
Meg Rothnie – Associate Camp Director
Meg fell in love with Pony Farm at the age of 7, when she first attended camp. Now, 25 years later, she still considers Touchstone Farm one of her favorite places on Earth. Meg was leader staff at Pony Farm in 2016 and will serve as Associate Camp Director  in 2017.  While earning mentorship hours at Touchstone to become a licensed therapeutic riding instructor, Meg began volunteer with Veterans weekends at the farm. This work struck a profound chord with Meg and she continues to assist with the Veterans program year round. Outside of Touchstone, Meg lives in Charleston, South Carolina where she rides her horse and competes very frequently.  She also works with a therapeutic riding center in the Charleston area, helping with lessons as well as fundraising and event planning. Meg attended the College of Charleston where she studied Early Childhood Education. Although she grew up in Concord, MA, she finds the temperature in South Carolina much more pleasant, and has officially "flown south for the winter".
Email: mlowe@touchstone-farm.org
Phone: 603.654.6308
Office Manager – Michelle Lowe 
Michelle comes to the farm with over 25 years of Business and Development expertise.  She spent over 18 years as a Product Marketing and Business Development Manager for Apple and Adobe at Connection, Inc.  Over 4 years as NE Regional Sales & Marketing Executive for STEM Technical Education curriculum distribution as well as over 7 years as the owner and managing director of Lowe Health Benefits, an Independent Health Insurance firm advising small businesses and sole proprietors through the challenging and changing times of Healthcare Reform.
Michelle has over 20 years of volunteer fundraising and development expertise in the Monadnock region helping to improve the lives of low income at risk and special needs youth and adults through sports programs, experiential learning and outdoor camps.  She currently serves on the board for Monadnock At Home and is the Sargent at Arms for Peterborough Rotary.
Growing up in the hills of Vermont Michelle holds horses and children near and dear to her heart.  She brings with her a lifetime love for trail riding as well as over 8 years mushing huskies through the woods of Pack Monadnock!!
Volunteer Coordinator position is currently being covered by Pam Falkins, Lesson Coordinator
Email: pfalkins@touchstone-farm.org
Phone: 603.654.6308
TOUCHSTONE FARM BOARD of DIRECTORS
Phyllis Strickholm, President. Phyllis lives down the road from Touchstone Farm and has had a keen interest in the farm's programs and prosperity for many years. She is a member of the Touchstone Farm Driving Club and participated in many of the driving clinics at the farm. Last fall, she tested for and passed her Level I Carriage Driving Proficiency certification and now supports the farm by teaching driving on weekends. Phyllis has four Morgan horses and has spent a lifetime around horses, having raised and trained 28 horses and also taught centered riding as a sideline to her profession as a Business System Analyst.
Nancy Cook, Vice President. Nancy has been affiliated with both Pony Farm and Horse Power since 1989 when she helped Boo establish Horse Power. She taught at the Horse Power Instructor Training School, specializing in learning disabilities, autism spectrum disorders, and attention deficit disorder. In 2014, Nancy completed her term as board President, during which she over the transition of the separate entities of Pony Farm and Horse Power into the single nonprofit organization of Touchstone Farm.  Nancy has a Master's degree in Special Education and is a New Hampshire certified school psychologist in a local school district. She is member of the National Association of School Psychologists, Learning Disabilities of America, CHADD (Children and Adults with Learning Disabilities), and the Association of Specialists in the Assessment of Intellectual Functioning. Nancy is a University of New Hampshire Certified Coach specializing in students with ADD. She has coached and volunteered for Special Olympics for over 16 years. Nancy is a lifelong rider having competed in both three-day events and dressage.
Alan Greene, Treasurer. Alan is the Executive Director of Monadnock Developmental Services in Keene, NH. He has held this position for the past 15 plus years. Previously, he held several other positions with MDS, which serves people with developmental and related disabilities. These included Director of Finance and being one of the first ten case managers in the state to transitions individuals out of state institutions back to their home communities.  Alan has worked in both the public and private sectors and volunteered his time in a variety of activities in his community and region. He has a BA in Psychology from Drew University in Madison, NJ and an ABD in Educational Psychology from Temple University where he also earned a Special Education Teaching Certificate. He lives in Dublin, NH with his wife Christy and enjoys the company of his two adult children.
Jennifer Beck.  Jennifer is a PR and Marketing Director, program manager, digital equip WV marketing manager, outsourcing, DEC industry analyst, Chief of Research, Digital marketing,  the Boston zoological society commissioner, a Wilton Conservation commission chair, on the Wilton Economic Development team, and is on the Souhegan Sustainability Fair committee.
Meagan Blaikie.  Meaghan is currently a Marketing Specialist for Charles River Laboratories in Wilmington MA. In the past, she worked for Charles River Laboratories as an account manager and project manager
Sara Fingeret, Esq. Sara's relationship with Touchstone Farm began as a Pony Farm camper twenty years ago. She was a camp staff member, completed the Instructor Training School, and Pony Farm Program Director. She currently volunteers with Horse Power and joined the Touchstone Farm board in May 2011.  Sara has her Juris Doctor from the University of New Hampshire School of Law and a BS in Psychology from Pennsylvania State University. She lives in Manchester with her husband and two dogs.
Christie Friedrichs. Christi has been a business consultant for more than 15 years, helping primarily technology companies grow their revenue, increase profitability, and expand their businesses.
Christy Greene. Christy is Clinical Director of Antrim Girls' Shelter, a state-run facility for troubled adolescent girls, and has worked in child and family services for the last 30 years. She co-wrote and published an article in Journal of School Social Work on "Grief and Therapeutic Horseback Riding" and was a presenter in the Horse Power Instructor Training School. She is a member of Mariposa Museum, a past member (8 years) of the Conval School Board, Peterborough Youth Soccer League, Living Network, Inc., Youth Services of the Monadnock Region for 10 plus years, and the Dublin Board of Adjustment. Christy has a BA in Sociology and Psychology from Drew University, and her Master of Social Work degree from the University of Pennsylvania.
Caitlin Shultz.  Caitlin is a part of the State of NH Judicial Branch.
Tricia Wadleigh.  Since 2016, Tricia has been member of the Monadnock Farm and Community Coalition board. She is a volunteer with the Wilton Temple Lyndeborough ambulance service since 2016. Tricia is a member and previous director of the Greater Monadnock Medical Reserve Corps. She works for Disease Control and Prevention and for Cheshire Medical Center Dartmouth-Hitchcock.
Additional Touchstone Farm Board members include:  John Kerrick, Cynthia Guizzetti, Megan Kielly Mueller, PhD. and Nathaniel Pulsifer.
Phyllis Strickholm – President Board of Directors
Follows a career in Health Services as a Business Systems Analyst, currently for Fresenius Medical Care, a leader in providing dialysis to patients with renal failure. Lives nearby Touchstone with a small farm for her own Morgan horses and enjoys trail riding in the lovely nearby orchard country and Wapack range.
Email: pstrickholm1@gmail.com
Phone: 603.533.1590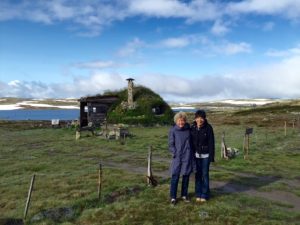 Nancy Cook – Board Vice-President
Nancy and her husband Roland are long time residents of New Boston.  They have two children and one precious granddaughter.  Nancy loves to travel, read, and participate in charity endeavors.  She has been affiliated with Touchstone Farm in one capacity or another for the last 40 years and is currently vice president of the board of directors.
Allen Greene, Board Treasurer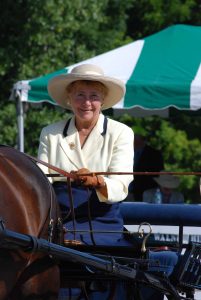 Email: Krisretter@aol.com
Phone: 
Kris Retter – Program Committee Member
Kris is a lifelong horsewoman who purchased her first horse for $350 in 1958. She competed in 3-phase eventing through Training level in PA and New England. She began driving in 1997 and has CDE experience through Intermediate level and shows at pleasure driving shows throughout the Northeast.  Kris grew up in the Reading, PA, area and moved to NH in 1980. She has a bachelor's degree in Elementary Education from Kutztown University, and a Master's degree in Special Education and certification in School Psychology from Millersville University. She was a Special Ed. teacher and then a school psychologist until her retirement in 2008. Kris and her husband Alan have one son. They live in Hollis, NH, with four horses, two dogs, and one cat.