Riding Lessons:
At Touchstone Farm, we welcome adult riders of all ages and riding levels. We believe you are never too old to learn how to ride, even if you are a complete beginner.
We are committed to helping you achieve your personal riding goals. In every lesson — private or group — we work with you to build the skills that can enable you to become the rider YOU want to be.
Students in our riding program have come to us with goals as varied as:
showing and competition in English, Hunter/Jumper, and Dressage
achieving basic competence on horseback for trail riding
rediscovering a favorite childhood activity
trying out an activity that looks like fun
simply experiencing the wonderful partnership of horse and rider
When you sign up for lessons at Touchstone Farm, we'll ask you about YOUR goals for riding lessons. We'll match you with the appropriate instructor, lesson level, and lesson horse for the goals you want to achieve.
Lessons run year-round, and you can sign up at any time.
Please call or e-mail our Lesson Coordinator, Pam Falkins for more info and PRICING: 603.654.6308 ext. 104 or pfalkins@touchstone-farm.org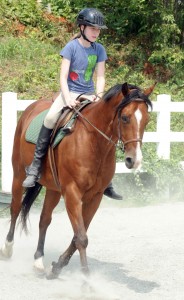 All riders must wear an ASTM approved riding helmet for every ride. We have some helmets available for our beginning riders. Once a rider is committed, we strongly encourage purchasing one's own helmet to insure individual correct fit.
Riders should dress in loosely fitting pants and a shoe or boot with a heel for beginner lessons. As our students progress through the ranks, we encourage correct attire for riding.
Carriage Driving:
By taking lessons with us, you can enjoy a consistent time to practice your harnessing, putting to, driving skills, and unhitching abilities so that YOU can independently drive with a friend or spouse safely and successfully. You will learn:
Harnessing basics (hitching and unhitching) and the function of harness parts
"Putting to" a vehicle and driving different types of vehicles
Vehicle safety
Driving safety
Correct entry into a vehicle
Emergency procedures
Depending on students' interests and skills, lessons may also include dressage, cones, obstacles and driving for pleasure down the road. An optional goal for all lessons is to gear up for participating in clinics and driving events offered at the farm throughout the year.
Students in our driving program have come to us if:
Love to carriage drive and can't get enough!
Want to improve your carriage driving skills.
Want to be more comfortable with harnessing.
Want to experience driving a variety of horses and vehicles.
Want to take the level I or II CAA Driver Proficiency Program.
Want some help prepping for your first Arena Driving Trial.
Want to know more about the National driving world.
Want to be "literate" about carriages and harnesses.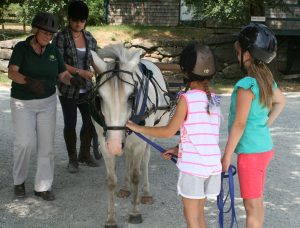 Driving Lesson Rates: CALL FOR PRICING
Lessons are with Touchstone Farm vehicles and with Touchstone horses or ponies, and the cost of these are included in the lesson rate.
Lessons are offered in pairs of two with a maximum of two horse and four students.
Harnessing Lesson – Rein Board/Ground Driving Only – 1 hour
Private Lessons
Semi-Private Lessons
Driving Lesson with Our Horse – 1 hour
Private lessons
Semi-Private lessons (by permission only to ensure the safe driving of two turnouts in one lesson)
Safety Support Person to drive with a student driver to practice either in the ring or down the road (when the student is proficient in driving without the instructor)
Private Instruction
Training fees and lessons for drivers who wish to bring their own horse to use the Touchstone facility can be individually negotiated with Boo Martin. Private lessons are also available for special requirements if space and time allows. Email Boo Martin at bmartin@touchstone-farm.org to discuss.
Questions? Contact Boo Martin at bmartin@touchstone-farm.org or (603) 654-6308.