Touchstone Farm Fall Fuzzy Halloween Horse Show - Saturday, Oct 19th!
Touchstone Farm Horse Show
Mark your calendars for our Fall Fuzzy Halloween Horse Show…  October 19th, 2019

              All "Open" classes are open to all horses and riders with no restrictions.
              NHHJA and Downeast rules apply to medal classes.
             Jumper classes shall be run in accordance with USEF/NEHC Jumper Class rules.
             Champion and Reserve Champion to be awarded in all Open Hunter Divisions.
Contact: Kris Young, Dir of Operations (603) 654 – 6308 x103 or EMail:  info@touchstone-farm.org
Registration Forms will be available soon…

Please download the registration form, print and mail in to:
Touchstone Farm
PO Box 193
Temple NH  03084-0193
---
Contact:  Kris Young  (603) 654 – 6308 x103 or EMail at  info@touchstone-farm.org
2018 BRANDON GARABRANT MEMORIAL EQUITATION CLASSIC
This class was created in honor of fallen US Marine CPL Brandon Garabrant, who was killed in the line of duty in Afghanistan on June 20, 2014. He was 19 years old.  Brandon was a member of the Touchstone Farm staff and an active part of his community.
How the challenge works:
This class will be held at ALL FOUR Touchstone Farm horse shows this year.   Ribbons will be awarded for 1-6 place at each show.  At the Fall Fuzzy horse show, the rider who has accumulated the MOST points in the class for all four shows will win the perpetual trophy, saddle pad, and title of Champion.  The trophy will be engraved with the winner's name and passed on to each year's winner.
Horse Shows while at Pony Farm Summer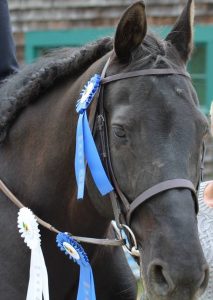 For the Summer 2019 we will be offering the following horse shows during camp.
Home Horse Show:
Saturday, July 13th, Session 3
Away Horse Shows:
Saturday, June 28th, Session 2
Wednesday, July 17th, Session 3
Wednesday, July 31st, Session 4
Thursday, August 1st, Session 4 (Cheshire Fair – this is not a showing event but a spectator visit to the fair!)
These are the stay over Saturdays of these sessions and are the parent's opportunity to visit their camper.