Horse Shows while at Pony Farm Summer Camp – Stay Tuned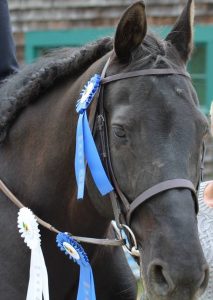 For the Summer 2021 Stay Tuned for our Horse Show schedule during camp…..
Home Horse Show:
TBD, Session 3
Away Horse Shows:
TBD, Session 2
TBD, Session 3
TBD, Session 4
TBD, Session 4 (Cheshire Fair – this is not a showing event but a spectator visit to the fair!)
These are the stay over Saturdays of these sessions and are the parent's opportunity to visit their camper.
What if I can't make it to the horse show?
If you can't make it to the horse show, don't worry.  Your camper will have support from the whole camp, including her roommates, her lesson group, her barn,  the whole camp staff!
What time does the show start?
The first class typically starts at 9:00 am, but that doesn't mean your camper is in the first class.  You will receive an email from camp a day or two before the show with an estimated start time for your camper.  Sometimes we are spot on with our estimates, and sometimes we are way off!  If you don't want to miss anything, we suggest you arrive at 9:00 am and plan to make the day of it at the show.
What special equipment will I need?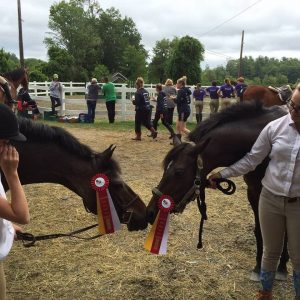 In order to participate in the show, you will need:
* We do have some items that are available to be borrowed.  Please contact Kris Young,  info@touchstone-farm.org in regards to what is available and make arrangements.
Tan or beige breeches or jodhpurs
An appropriate and well fitted hunt coat/jacket
A show shirt with a choker/collar
Tall boots (black) OR paddock boots with matching garter straps
A black helmet or helmet with a black cover
Hair nets or Hair bows if wearing braids
A belt
How much does a home horse show cost?
Home Horse Shows are a flat fee of $75.  It doesn't matter if your camper does 2 classes or 5 classes.  It is the same price.  You will need to make out a check to Touchstone Farm for $75 and send it in with your camp forms if you camper plans to show.
Who will sign my camper up for her classes?
Your camper's lesson instructor will sign her up for the appropriate classes.
What level will I be showing at?
It is important to understand that if you are not showing your own horse/pony, you will be entered in classes that will likely be a level or two below where you compete normally.
This is in consideration of several factors:  first, you are on a horse with whom you have not been training with for months, as you would at "home".  Secondly, you are with an unfamiliar trainer in an unfamiliar setting.
We want everyone to be safe and have a positive, fun experience, it's important to keep these variables in mind.  We adopt the IEA rules and philosophy to the Pony Farm Show Team.  If you are unfamiliar with IEA, you can read more about it here:  www.rideiea.org
Essentially, the nature of IEA competitions are similar to what we will encounter, and they stress the importance of competing at a lower level than the rider is capable of under ideal circumstances.
What if my camper doesn't want to show?
If your camper doesn't want to show there is no pressure to do so and the choice is totally up to them.  Our shows are low key and  there are opportunities for her to help with the show as a ribbon runner or a gatekeeper if she chooses.  She can also be a cheerleader or a groom for her friends.  Campers have a lot of fun just hanging out at the show and cheering on their friends!