DON'T MISS OUR 2019 MOTHER/DAUGHTER WEEKENDS!
Mark Your Calendars for our 2019 Mother Daughter Weekends….

November 1st-3rd, 2019 – SOLD OUT!

December 6th-8th, 2019 – SOLD OUT!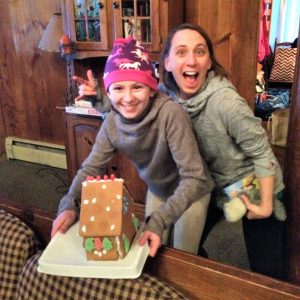 December 13th – 15th, 2019 – SOLD OUT!

A tradition at Touchstone Farm to kick off the Holiday season – take time to celebrate and enrich the wonderful bond between mothers, daughters and grandmothers, too!
Come savor the fun and beauty that New England has to offer at this time of year.  We have onsite lodging at the Stepping Stone Lodge and offer delicious meals prepared in the lodge kitchen.  This special weekend also makes an unforgettable holiday gift for someone you love!
Activities:
Horseback riding, carriage driving, and vaulting (gymnastics on horseback!)
Visiting our mini horses and donkey and our other small animals
Sitting in front of the Lodge fire, chatting, and playing games (Pony-opoly, anyone?)
Bonfire with songs and s'mores

Professional Massages (Addtl. Fee)
A trip to scenic Wilton Falls

Pamper yourself with a professional massage (Additional Fee Required)
Hikes in some of NH's most beautiful scenery

Payment Information
Click the Pay ONLINE Now Button at the bottom of the page to pay on-line or send in a check with your registration sheet.
(Note: A 4% processing fee will be added to payments by credit card.) Even if you are paying online: DOWNLOAD and MAIL IN Registration form to Kris Young, Touchstone Farm, 13 Pony Farm Lane Temple NH 03084