ALL THINGS DRIVING!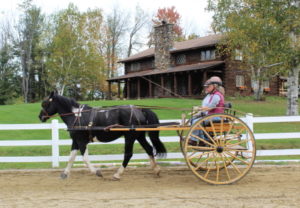 Saturday September 28th & Sunday September 29th
Touchstone Farm, Temple, NH
Join Clinicians George Stolz, Dave Bradham and George Paffendorf at Touchstone Farm for a two-day clinic to increase driving skills and knowledge.
This clinic is intended for:
Beginner drivers who want to try out carriage driving in a safe, welcoming, and informal environment
Drivers who want to increase skills needed for certification
Volunteers who work with driving programs
Drivers who want to increase their knowledge of all the different aspects of driving.
Drive with a Touchstone horse and turnout. We have a wide variety of horses and turnouts.
Each OPTION field NEEDS a CHOICE for this product to be added to your shopping cart.
*For FULL WEEK, choose FULL and NONE and NONE.
*For PER DAY participation, choose NONE and WITH LUNCH and NONE.
*For Audit only, choose NONE and NONE and WITH LUNCH.
You may pay for more than one participant by adding more than 1 person to your shopping cart. BUT EACH participant must download and return mail their registration materials.
ALL ACCOMMODATIONS for LODGING need to be purchased through the ACCOMMODATIONS  payment field. There are special instructions for Driving Immersion Week participants.
ALL On-site STABLING for your horse or use of a Touchstone Farm harness/vehicle is also to be purchased through the ON-SITE STABLING or use of TSF Turnouts payment fields. There is a coupon code to use to have the amount calculate properly in your shopping cart.
Your charges will be subtotaled before final payment.
Additional information
| | |
| --- | --- |
| Option | All Things Driving, Saturday Tracks Only, Sunday Tracks Only, Lodging at Homestead, Saturday night chat |