Touchstone Farm's Operation Horse Power Team
is proud to announce…….
Our collaborative partnership with The Red Sox Foundation, Home Base, and Massachusetts General Hospital to provide a wonderful respite weekend to service members and their guests.
The Red Sox Foundation, Home Base is a National Center of Excellence and the first largest private-sector clinic in the nation dedicated to healing invisible wounds.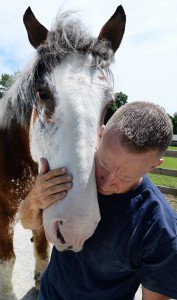 PATH Intl. Equine Services for Heroes assists military veterans through services provided by PATH Intl. members and by providing leadership and guidance for equine assisted activities and therapies.
Operation Horse Power is a community of veterans who work with civilian counselors, equine professionals, and horses trained to work with veterans and their families.
Operation Horse Power encourages and empowers veterans to:
Overcome obstacles
Re-establish bonds
Reintegrate into civilian life
At Operation Horse Power individuals can:
Attend weekday and weekend programs that accommodate work schedules
Connect with veterans who have "been there, done that" too
Team up with our horses in the proven therapy of equine-facilitated psychotherapy (EFP)
Re-energize with physical activities such as carriage driving and horseback riding
Bring family to special programs to help veterans reconnect with their loved ones
Relax in the peace and beauty of our 28-acre farm in Temple, NH (just 90 mins. from Boston)