*We are monitoring Covid-19 protocols with ACA guidelines and will update with formal policies as we get closer to Camp 2022.*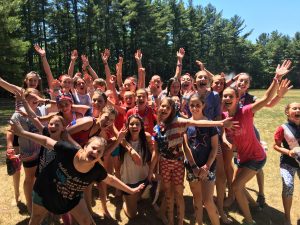 We respectfully ask that you and your camper be familiar with these policies.
Prescription Medications

: We have a nurse on staff who visits camp every day. A doctor is on call at all times. If your child takes prescription medications, the camp nurse will collect them on the day she arrives. They will be dispensed by the nurse or senior staff according to your doctor's instructions.

Please send the medications in the prescription bottles and ensure that the medications – especially inhalers – are not expired

.

Medications not in their original containers will not be accepted.  
Over the Counter Medications:

We have basic over the counter medications (Advil, Benadryl, etc.) here at camp, so you do not need to send them. We do recommend that you pack plenty of sunblock and bug repellent (It is summer in New Hampshire, after all.).

Phone calls:

Please keep in mind that it is an important part of the camp experience for your camper to be on her own and have a feeling of independence. We ask that you do not call during your child's first week at camp (unless of course there is an emergency situation).  Please be patient when calling: we are outside enjoying the weather and the ponies and are not always right next to the phone. If you leave a message, a staff member will call you as soon as we can.

Contacting you in case of injury or illness

: In the unlikely event of your child's having an injury or illness, we will contact you promptly at the emergency contact phone number you provided in your camp forms.
iPads, laptops, and other electronics

: The use of iPads, Cellphones, Nooks, Kindles, and electronic devices at camp is prohibited.  We ENCOURAGE a different kind of connection – with each other, the horses and other animals, the outdoors and nature.  Help us make camp a terrific "unplugged" experience for your daughter. "Enjoy camp – plug into PONY FARM!"

PLEASE DO NOT SEND CELL PHONES

.

Cell phones

– Sending a cell phone to camp is prohibited.  Cell Phones will be confiscated if discovered and returned on the closing day of your daughter's session.  Parents please note that part of sending your daughter to camp is so they can become advocates for themselves.  Advocacy is a very important skill especially in this day and age for women.  If a cellphone is present, it is like a crutch, campers will use it and not develop the skill of advocacy or allow the skill of advocacy to reach it's potential,  

Lost and found:

When there are this many children in one place, items may get lost despite our best efforts. We have found that marking your camper's belongings is the best way to keep them from getting lost or mixed up with other campers' items. Helmets, boots, chaps, and other riding gear look very much alike. The better you mark your camper's belongings, the better chance they have of staying with her. We make no guarantees on return of lost items.  If we do discover your lost items, we are happy to ship them back to you.  You will need to reimburse camp a minimum of $15 for returned items.

Spending money:

While your camper is at camp she does not need any money.* We keep track of any incidental expenses and settle the bill at the end of the session. * If your child is coming to Session 4 you will need to leave some spending cash for the Cheshire Fair ($60—$80 is suggested.) We will collect this on opening day and give it to your camper as they get on the bus to go to the fair.

Home horse shows:

The horse shows are an added expense. If your child is coming to one of the sessions with a Touchstone Farm horse show, there is a flat  fee of $75 for the horse show. We will need to leave a check on the opening day of camp for the horse show or send it in with your camp forms.  If your camper chooses to not show you will be reimbursed the $75.   No one is required to show and there is no pressure to do so. Campers who choose not to compete have a blast helping and watching the fun. Just let us know in the camp forms if your child and you prefer not to show.

Away Horse Shows:

The away show team is offered to campers as an opportunity to sharpen their riding skills and participate in off-site horse showing during their stay at camp. Participation in the away show team is optional. We  need to be able to plan the logistics (horse use, transportation, etc.) – the away show team will be limited to 15 riders per away horse show, on a first come, first serve basis. You must be signed up the Wednesday before your sessions starts; no exceptions will be allowed.  All the paperwork is included in the Camp Forms, under the Financial Permission section.  (Please see Camp Activities – Horse Show for more information about the show team.)

Candy and food treats:

We ask that campers leave candy and other edible treats at home and that you do not send them to campers. We have found over the years that candy in the rooms leads to bugs and arguments. We have a snack every day at camp store, dessert every night at dinner, and fresh fruit is available all day long.   Sweets sent to campers will be taken and returned on the closing day of camp.  We appreciate your cooperation in this matter.

Pony Farm is a Girls Camp:  By definition, we warmly welcome all age appropriate campers identifying as female.
Contacting your camper:  

You can write a traditional letter to your camper and we deliver mail to their room's mailbox every day but Sunday.      

( Send it to your camper's attention at the following address: 233 Old Temple Road Lyndeborough, NH 03082

You can write y)our camper an email.  We print them off daily and put them in your camper's rooms mailbox.  Please note that your camper can't email you back.  Please email them at

camp@touchstone-farm.org

You can send a package to your camper!  Remember no food or candy please.  Packages are opened by your camper in front of the staff.                                                                                                                                                                                         

(Send it to your camper's attention at the following address: 233 Old Temple Road Lyndeborough, NH 03082 )