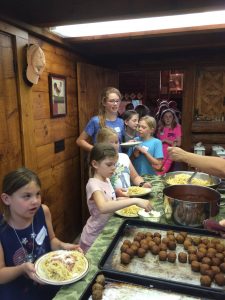 Meals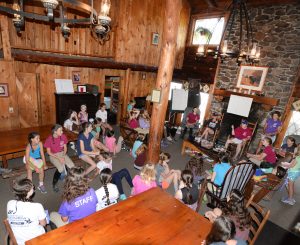 Camp meals are healthy, tasty, and most importantly food kids will eat. All meals have a vegetarian option, and fresh fruit is available all day.
We have a terrific kitchen staff who feed campers and camp staff all summer long. These hard-working women are great cooks who prepare the meals right in the Lodge kitchen. They serve three meals a day plus camp store (an afternoon snack).
Meals are served buffet style. Campers can eat at big tables in the Great Room.
If your child has a special diet or food allergies, please let us know on the camp forms. We are happy to keep the special dietary items in the kitchen, where they can be stored properly and monitored.
Accommodations
Stepping Stone Lodge has eight bedrooms, accommodating a total of up to 36 campers. Each bedroom has two sets of bunk beds, with sink, mirror, closet, and dresser. A private bathroom with toilet and shower adjoins each pair of rooms. Campers make the rooms their own by bringing bed linens and sleeping bags, towels, and favorite pillows.  Campers are welcome to decorate their rooms with pictures from home of their families, pets, or posters!
Senior staff lives in the building as well, but not in the same room as campers.  Campers are typically grouped by age in the rooms.  Rooming requests are accepted, but can't be guaranteed.