Touchstone Farm is an educational and therapeutic not-for-profit that is positively changing lives through partnerships between horses and people of varying abilities, ages, and backgrounds.
Summer 2023 will be better than ever!! We have partnered with the Barbara C. Harris Center 7 miles down the road again to host our traditional overnight camp sessions!
Save your camper's spot ASAP! We can't wait to have you!
Join us and have a little fun while raising money for our programs.
Bidding will be opeon July 25 – 30, 2023.
We are currently gathering some great items to bid on, so check back soon!

Spring has sprung and our wishlist is full of spring goodies that we'd like to stock up on as the snow melts and we head into warmer weather! This time of year on a horse farm means lots of SHEDDING, lots of BATHING, and lots of FLIES! Please consider shopping for us so we are prepared for it all! 🙂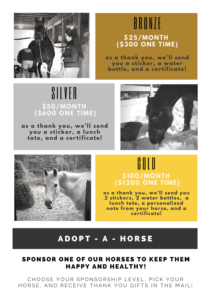 In any business, staff expenses can often be the largest operational cost. When your staff needs to eat 24/7, needs new shoes every 6 weeks, frequent doctor visits, and full-time babysitters, those expenses add up quick! Therefore, we ask for your help supporting our Adopt-A-Horse program.