Touchstone Farm is an educational and therapeutic not-for-profit that is positively changing lives through partnerships between horses and people of varying abilities, ages, and backgrounds.
Grounded in a sense of place, mutual respect and well-being, it is a sanctuary which nurtures connections, cooperation, self-confidence and personal growth. Through engaging with horses, farm animals, gardens, and the land itself, our mission is to provide transformative opportunities which positively change lives. Touchstone Farm offers a rich and challenging variety of experiences which includes summer camps, diverse equine oriented educational workshops and certifications for a variety of national organizations, riding and driving lessons, and specialty weekends, all of which culminate in building traditions that are both dynamic and timeless. Our professional staff passionately strives to empower individuals by healing hearts, enhancing health, teaching critical thinking, promoting personal spirituality, and fostering resiliency.
December 3rd Is Giving Tuesday! AND Your Chance To Help Touchstone Farm!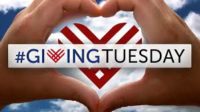 Dec. 3rd, is "GIVING TUESDAY" & Your Chance To HELP Touchstone Farm!

Please consider a donation to Touchstone Farm this Giving Tuesday for a day of Global Giving as we all kick off this Holiday Season!
At Touchstone Farm, we are passionate about providing opportunities that positively change lives through partnerships with horses and ponies for people of all ages, abilities, and backgrounds!
Check out this fantastic video of testimonials and how we help others from the Keene Sentinel!  CLICK HERE TO SEE VIDEO
Your gift truly matters and will help to ensure that we are able to positively impact our community for generations to come!
All proceeds will go directly to the farm, so please consider supporting us this holiday season!!  CLICK HERE TO DONATE
Touchstone Farm's Holiday Haul Fundraiser!
HURRY!  This limited offer is ONLY available during November 2019

Support Touchstone Farm by purchasing custom merchandise! Perfect for Holiday gifts!
We have SIX different Touchstone Farm & Pony Farm items:
Hoodie Sweatshirts
T-shirts
Drawstring bags
Winter hat
Insulated to-go coffee cup
All proceeds will go directly to the farm, so please consider supporting us this holiday season!!
We TRULY appreciate it! Follow this link HERE.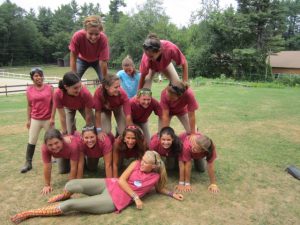 2020 Camp Registration IS NOW OPEN!
Sign up EARLY to get your preferred spot secured!
Early bird registrants get a FREE one-of-a-kind Pony Farm sweatshirt!
Please send those registration forms in right away!

Pony Farm at Touchstone Farm is a residential summer camp in Temple, NH, for girls ages 8 – 14. Our small size, a maximum of 36 campers per session, and low camper/staff ratio provide a safe, warm, loving atmosphere with the feeling of family.
For questions, please contact us at:  pfcamp@touchstone-farm.org