Touchstone Farm is an educational and therapeutic not-for-profit that is positively changing lives through partnerships between horses and people of varying abilities, ages, and backgrounds.
Grounded in a sense of place, mutual respect and well-being, it is a sanctuary which nurtures connections, cooperation, self-confidence and personal growth. Through engaging with horses, farm animals, gardens, and the land itself, our mission is to provide transformative opportunities which positively change lives. Touchstone Farm offers a rich and challenging variety of experiences which includes summer camps, diverse equine oriented educational workshops and certifications for a variety of national organizations, riding and driving lessons, and specialty weekends, all of which culminate in building traditions that are both dynamic and timeless. Our professional staff passionately strives to empower individuals by healing hearts, enhancing health, teaching critical thinking, promoting personal spirituality, and fostering resiliency.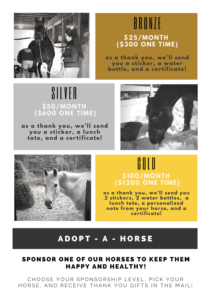 Sponsor one of our horses on a monthly basis in order to help out with meeting their needs. Choose from 3 levels of sponsorship and receive some thank you gifts in the mail!
Shop our Amazon Wishlist!
Every little bit helps to make the wonderful magic at Touchstone Farm happen!  Please think of us while shopping on Amazon.com, and use Amazon Smile instead!  https://smile.amazon.com/
When you do, $0.5% of your purchases will be donated to Touchstone Farm.  Simply select Touchstone Farm from the pull down as your preferred Non Profit for your account.  Amazon Smile uses the same login and password as your normal Amazon account AND  Touchstone Farm will receive a small donation with your purchase. If you are using the Amazon App – Switch to the "Smile" version with just a click of a button in Settings!
While you're at it- please check out our Amazon Wish List and consider giving!! We have many fun camp items we'd love to incorporate into this summer's fun!