Touchstone Farm is an educational and therapeutic not-for-profit that is positively changing lives through partnerships between horses and people of varying abilities, ages, and backgrounds.
Grounded in a sense of place, mutual respect and well-being, it is a sanctuary which nurtures connections, cooperation, self-confidence and personal growth. Through engaging with horses, farm animals, gardens, and the land itself, our mission is to provide transformative opportunities which positively change lives. Touchstone Farm offers a rich and challenging variety of experiences which includes summer camps, diverse equine oriented educational workshops and certifications for a variety of national organizations, riding and driving lessons, and specialty weekends, all of which culminate in building traditions that are both dynamic and timeless. Our professional staff passionately strives to empower individuals by healing hearts, enhancing health, teaching critical thinking, promoting personal spirituality, and fostering resiliency.
Run, Walk, Hike, or Ride Across America for Touchstone Farm!
We sure hope that you will join in on the FUN as we all trek across America!
The Medford2Medford: Run Across America. Participants can register as part of a team or individually to virtually run/walk/bike their way across the country.  There will be three distance challenges:
Medford2Medford: Run Across America (3452 miles solo or with a team of up to 20 members)
TheMississippi2Medford: The Eastern States (1258 miles solo or with a team of up to 10 members)
Massachusetts2Medford: The Home Stretch (142 miles solo or with a team of up to 5 members)
Join us for FAMILY GETAWAYS!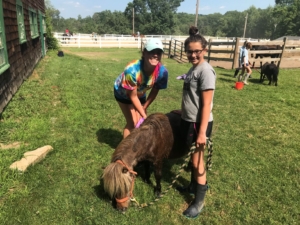 Bring the whole family for a weekend of horses, nature, swimming, games, family bonding, and soaking up the sun! Make your stay as busy or as relaxed as you'd like. Each family will have their own "suite" of rooms with a private bathroom and homecooked meals!
2 or 3 night stays available in July and August. See our flyer below for more information and registration!
2020 Day Camp Registration – Now OPEN!
Mondays-Fridays, 9am-4pm (with extended stay available)! Activities include unmounted horsemanship, riding, swimming, crafts, games, playing with the small animals, trail rides, etc. HURRY! Limited spots per week available. Open for boys & girls ages 6-14!
For questions, please contact us at:  pfcamp@touchstone-farm.org
Every little bit helps to make the wonderful magic at Touchstone Farm happen!  Please think of us this Holiday Season while shopping on Amazon.com, and use Amazon Smile instead  https://smile.amazon.com/
When you do, $.05% of your purchases will be donated to Touchstone Farm.  Simply select Touchstone Farm from the pull down as your preferred Non Profit for your account.  Amazon Smile uses the same login and password as your normal Amazon account AND  Touchstone Farm will receive a small donation with your purchase.