OUR PONY FARM SUMMER CAMP 2020 SEASON HAS BEEN SUSPENDED. In lieu of overnight camp,  we are offering FAMILY GETAWAYS and DAY CAMP! E-mail Anika at pfcamp@touchstone-farm.org for more information.
Deposit: The deposit is non-refundable unless your spot is filled from the wait list.
Session Confirmation:  Confirmation emails are sent out as registrations are received. Invoices are sent out in the mail in March.
Returning Campers: Returning Campers are eligible for our Early Bird Special.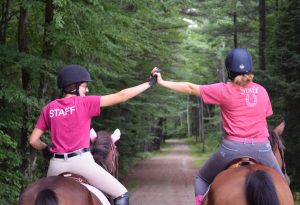 Early Bird Special: From October 1 – November 30, returning campers who register for Pony Farm will receive a FREE one-of-a-kind Pony Farm sweatshirt!
How to Register:  In order to be registered for camp you need to send in a deposit and a registration sheet.
Tuition Balance: Payment of the balance is due May 1, 2019 for all sessions. This payment is non-refundable unless we can to fill your spot from our waiting list. ** EDIT: If camp does not occur due to restrictions related to COVID-19, then all of your camp tuition will be refunded, less 10%.
Payment: You can pay for the deposit and balance via check or credit card. Please note that a 4% processing fee is added to all credit card payments.  Please make checks payable to Touchstone Farm.  See the Pay Now section in the upper right hand corner to make an on-line payment or click on the button below.
Questions? Contact Us!
Contact Anika Koerfer, Pony Farm Camp Director at  pfcamp@touchstone-farm.org
or by phone 603 654 6308 x102