Touchstone Farm is an educational and therapeutic not-for-profit that is positively changing lives through partnerships between horses and people of varying abilities, ages, and backgrounds.
Grounded in a sense of place, mutual respect and well- being, it is a sanctuary which nurtures connections, cooperation, self-confidence and personal growth. Through engaging with horses, farm animals, gardens, and the land itself, our mission is to provide transformative opportunities which positively change lives. Touchstone Farm offers a rich and challenging variety of experiences which includes summer camps, diverse equine oriented educational workshops and certifications for a variety of national organizations, riding and driving lessons, and specialty weekends, all of which culminate in building traditions that are both dynamic and timeless. Our professional staff passionately strives to empower individuals by healing hearts, enhancing health, teaching critical thinking, promoting personal spirituality, and fostering resiliency.
Join us Feb 27th at The Waterhouse Restaurant for Giving Tuesday!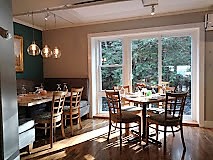 You will enjoy great food and fun while The Waterhouse donates 10% of all revenue for the day to Touchstone Farm!!!
Proudly, Touchstone Farm is the highlighted local non-profit for February 27th!!  Please join us for Lunch, Happy Hour or Dinner and you will be helping to support the farm.  We would love to see you and tell you what the farm has been up to.
 Happy Hour 4:30-6:30pm with great door prizes and fun socializing with friends
OR stop by anytime for lunch or dinner all day, knowing you will be helping the farm and enjoying great food.
The Waterhouse community program "GIVING TUESDAYS" is every Tuesday in February and we are so thankful for this opportunity!   https://www.waterhousenh.com/events
For questions: contact Michelle Lowe at mlowe@touchstone-farm.org
Touchstone Farm Partners with Home Base and Mass General!
Pony Farm Summer Camp 2018
Pony Farm at Touchstone Farm is a residential summer camp in Temple, NH, for girls ages 8 – 14. Our small size, a maximum of 36 campers per session, and low camper/staff ratio provide a safe, warm, loving atmosphere with the feeling of family.
For questions: contact Becky Hawkes at bhawkes@touchstone-farm.org