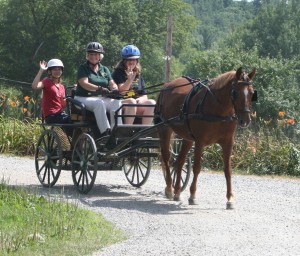 Our facilities include three outdoor arenas with excellent all weather footing, including a Dressage arena for practicing cones and ring figures.
Indoor arena with specialty dust-free hard pack for carriage driving.
Cones galore for a cones course, including temporary and permanent obstacles.
Large open fields and quiet, well-maintained dirt roads to enjoy driving out in the countryside.
Onsite stabling with plenty of carriage storage and trailer parking!
Onsite accommodations for clinics and multi-day events at our comfortable Stepping Stone Lodge.
Easy to get here on good roads just off Route 101 in Temple, NH.  We hope to see you soon!!
Our 2017 May Driving Immersion was a huge success!
We reached our maximum capacity for the number of attendees, with a total of (14) active participants, (8) clinicians and (12) Abled Bodied Whips serving as volunteers.  It was a jammed packed educational week for one and all.  The (13) VSE's, ponies and horses certainly slept well at night!  Best yet, the rain held off until the last horse was unhitched after the last class of the Mock Pleasure Driving Show held on Saturday May 13th!   We would like to send out a sincere "Thank You" to everyone who came to enjoy a true immersion experience.
Browse the pictures at the bottom of the page to give you a feel for the experience!!
A brief overview of the week included:
Unmounted lectures, presentations and demonstrations including a 50+ page notebook of handouts, theory, history and safety procedures all presented in a lively and knowledgeable way.
Grooming and harnessing happened twice a day, everyday so that participants got the experience of really getting the steps down pat with a variety of harnesses and sizes of horses.
Driving in our Indoor Arena and the outdoor rings, a variety of horses and ponies, as well as types of (2) and (4) wheeled vehicles were put into action so participants could get a real feel for all types of vehicles.
Several trips outside the ring delighted both those who had never seen New England in the springtime as well as those who had never driven outside the ring.  Judging from the positive feedback, in 2018 we will do much more driving through the countryside as well as drive cross country obstacles and navigate over bridges and through streams.
Drivers loved both the clinicians input as well as that of the Able Bodied Whips who rode right beside them on the carriages.  Cones and obstacles were a fun challenge for everyone.
Individuals who were working to prepare for their PATH (Professional Assoc. of Therapeutic Horsemanship, International) Therapeutic Driving Instructor Certification were given many opportunities to drive multiple turnouts as well as instruct drivers with disabilities.  Several of our attendees will return this fall to complete their PATH certification with a ton of confidence under their belt!
The Mock Pleasure Show winners under the able critiqued judging by Susan Koso sent the competitors home with lots of ribbons and big smiles!!
Many thanks to all from the Touchstone Staff and Family!